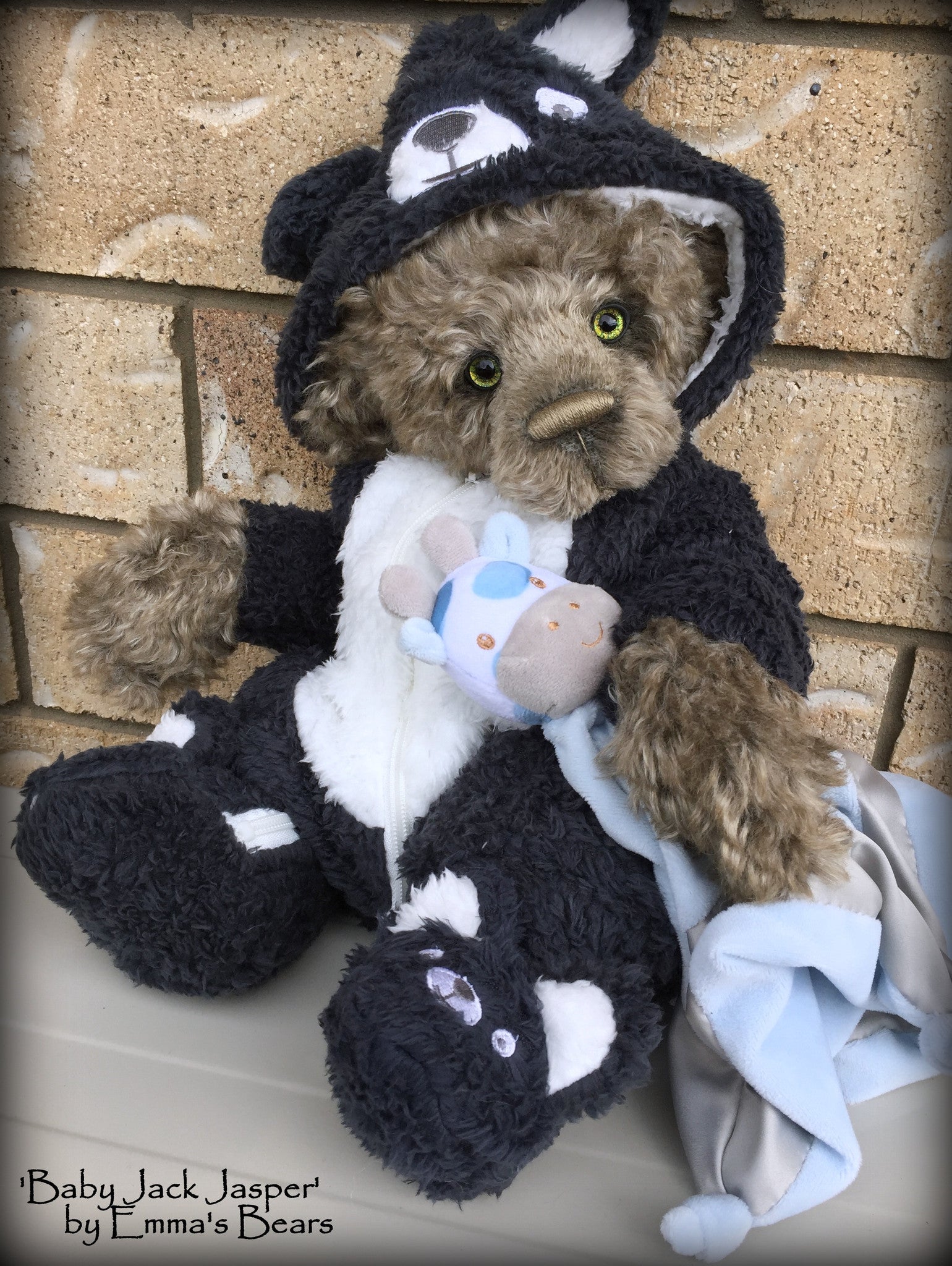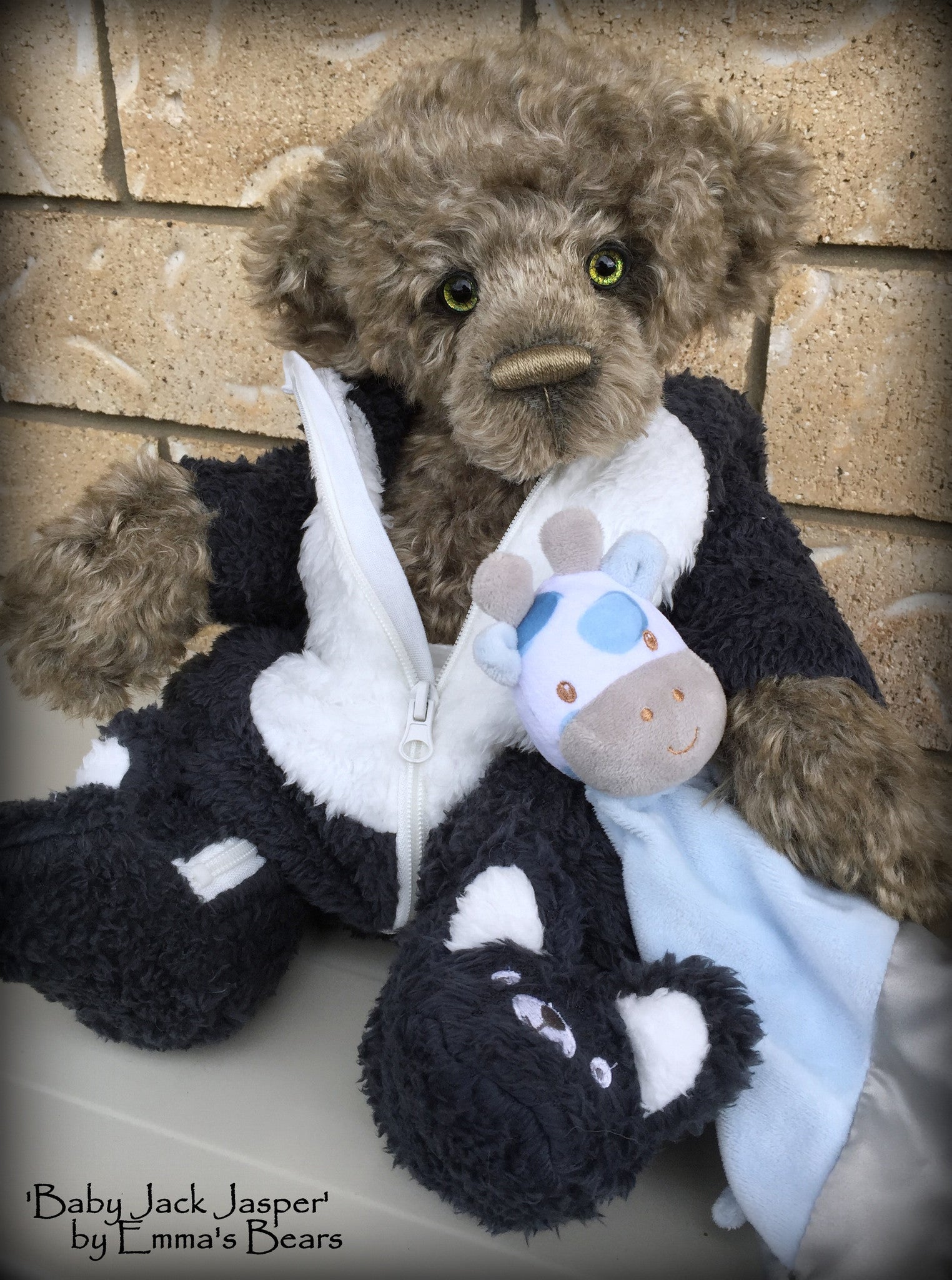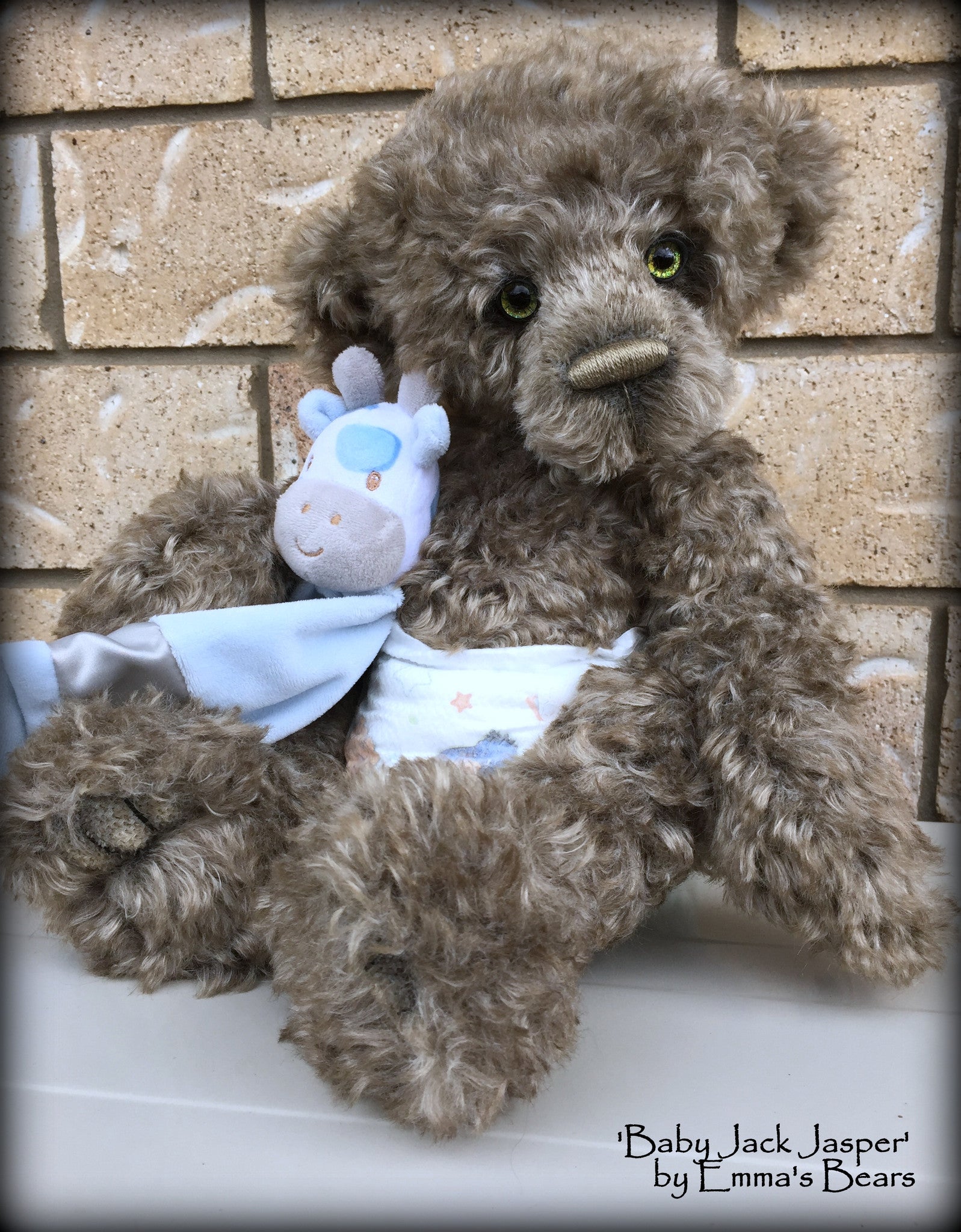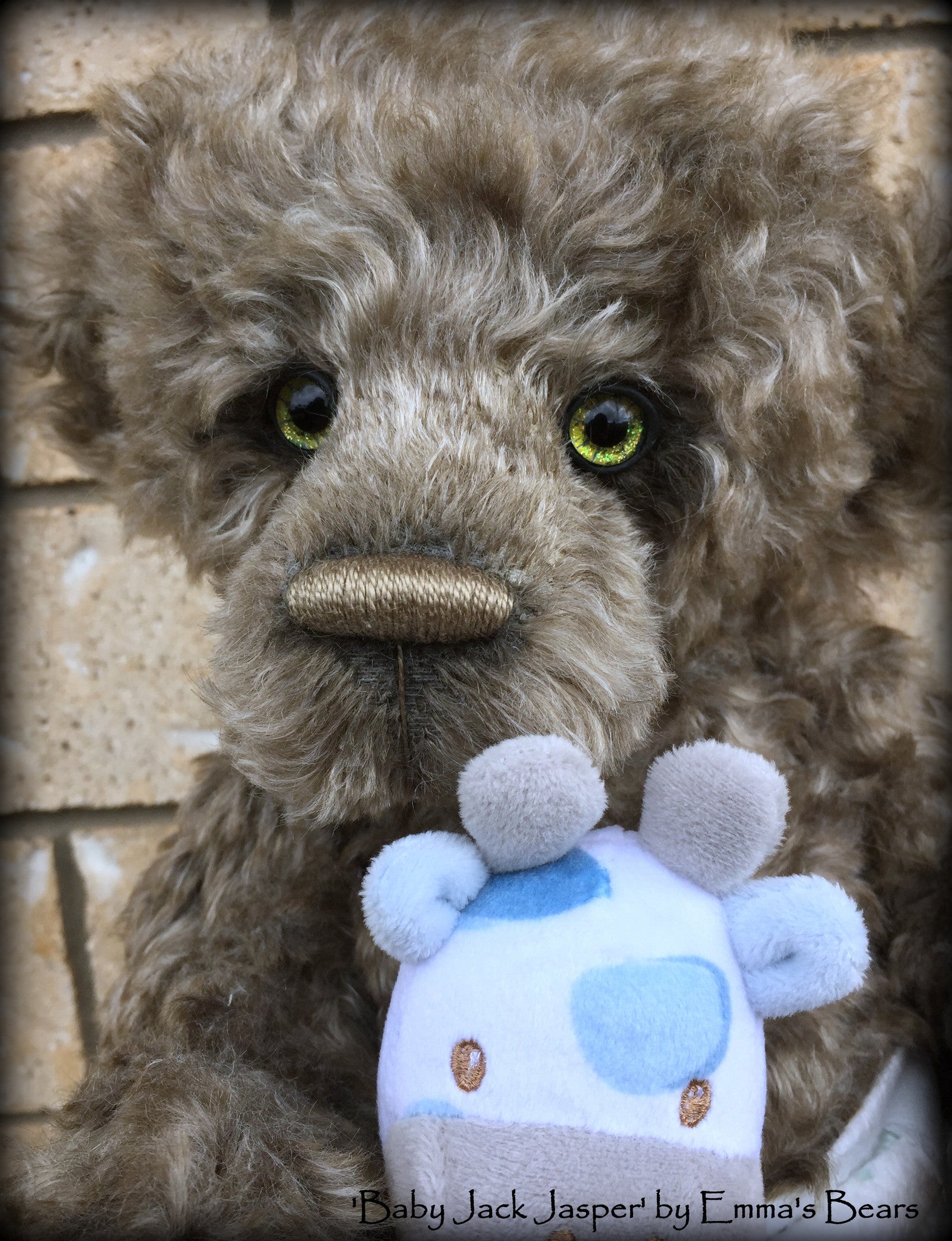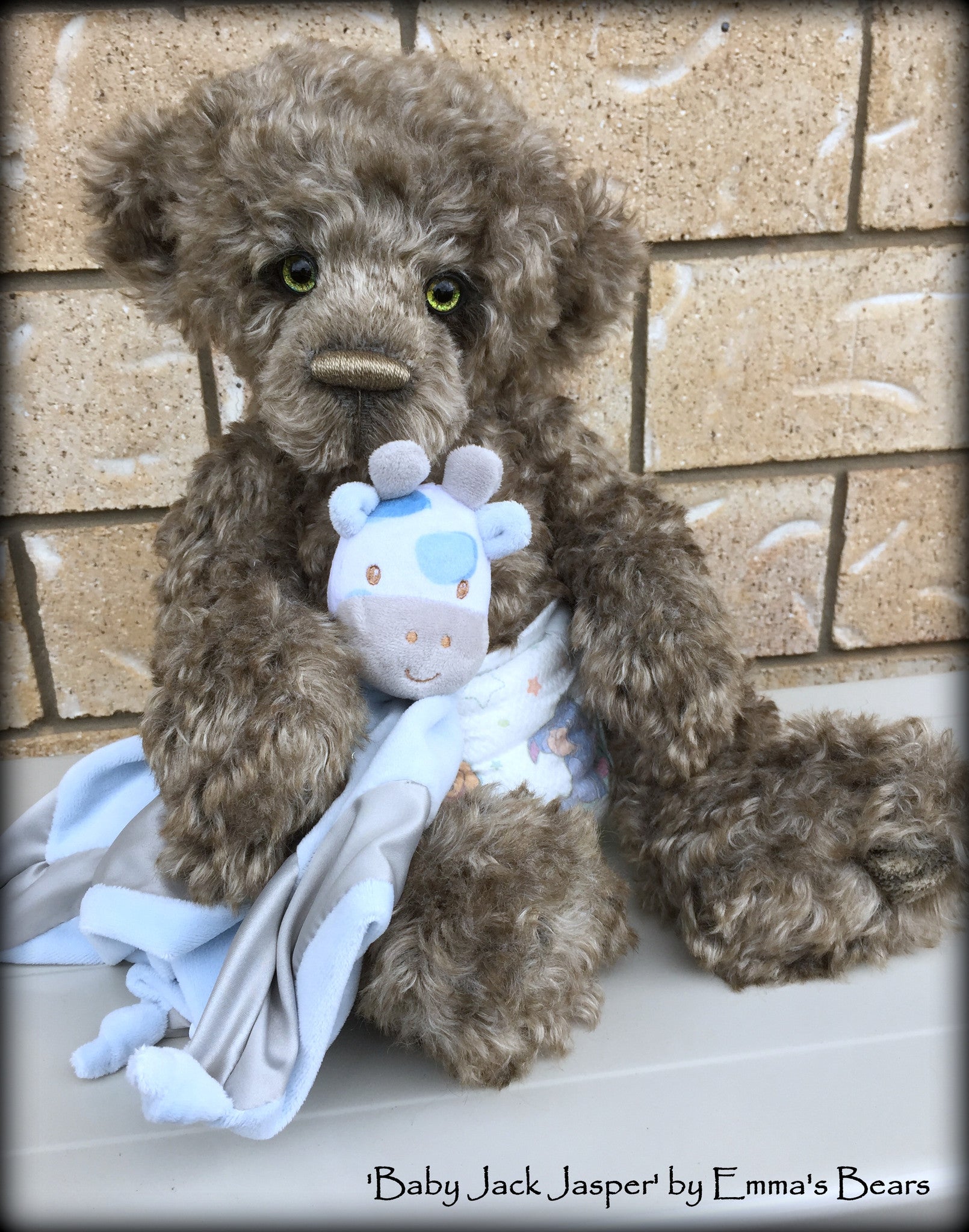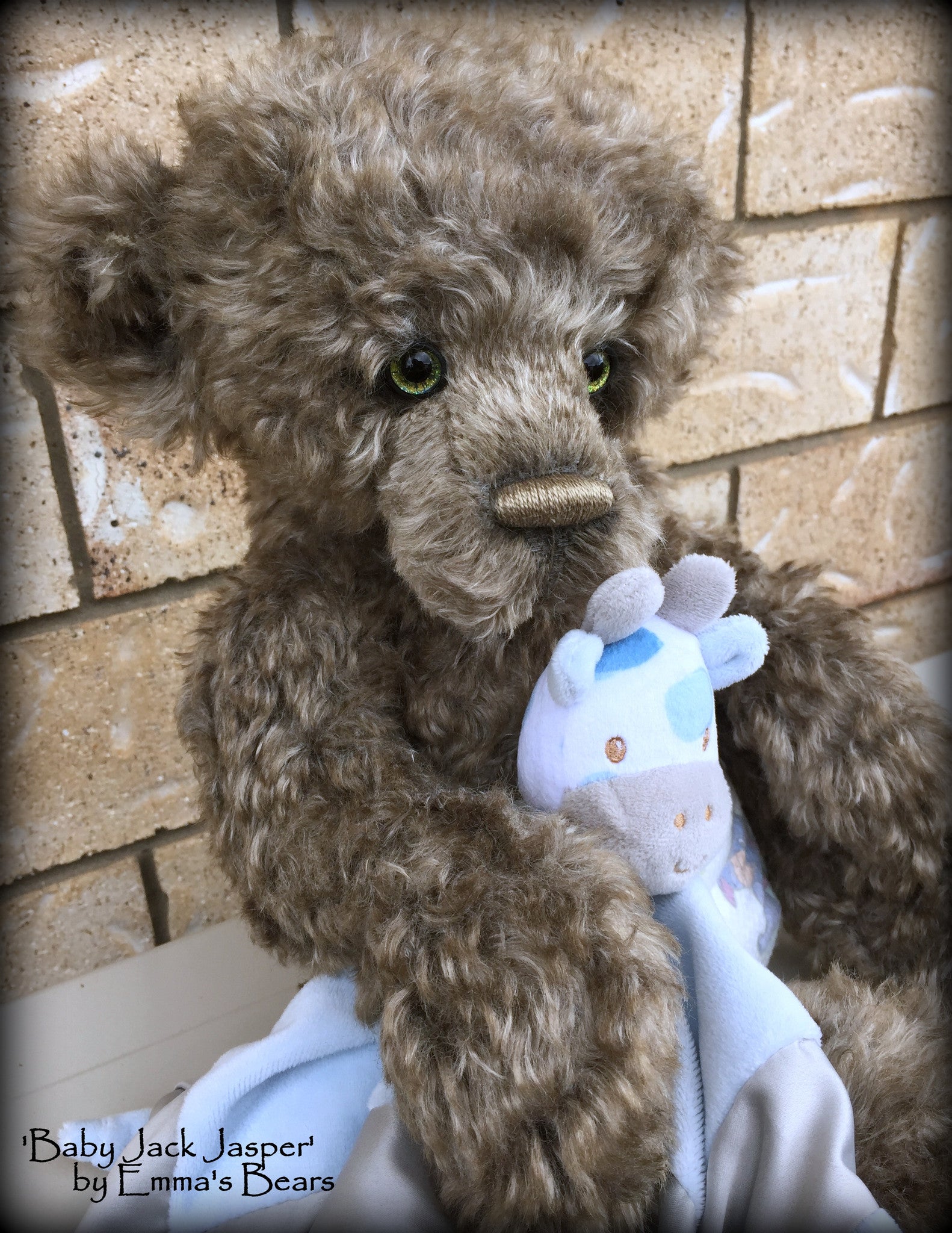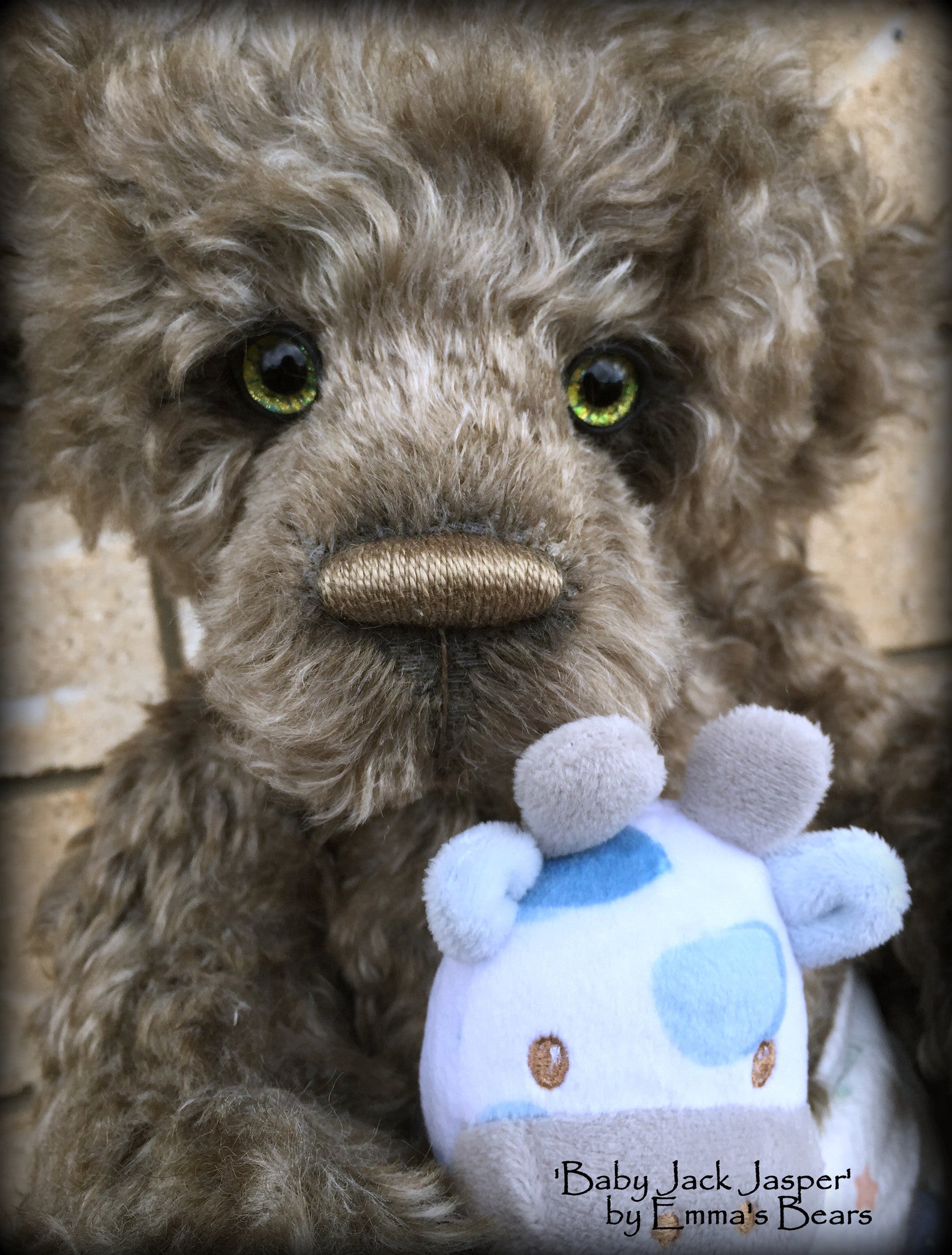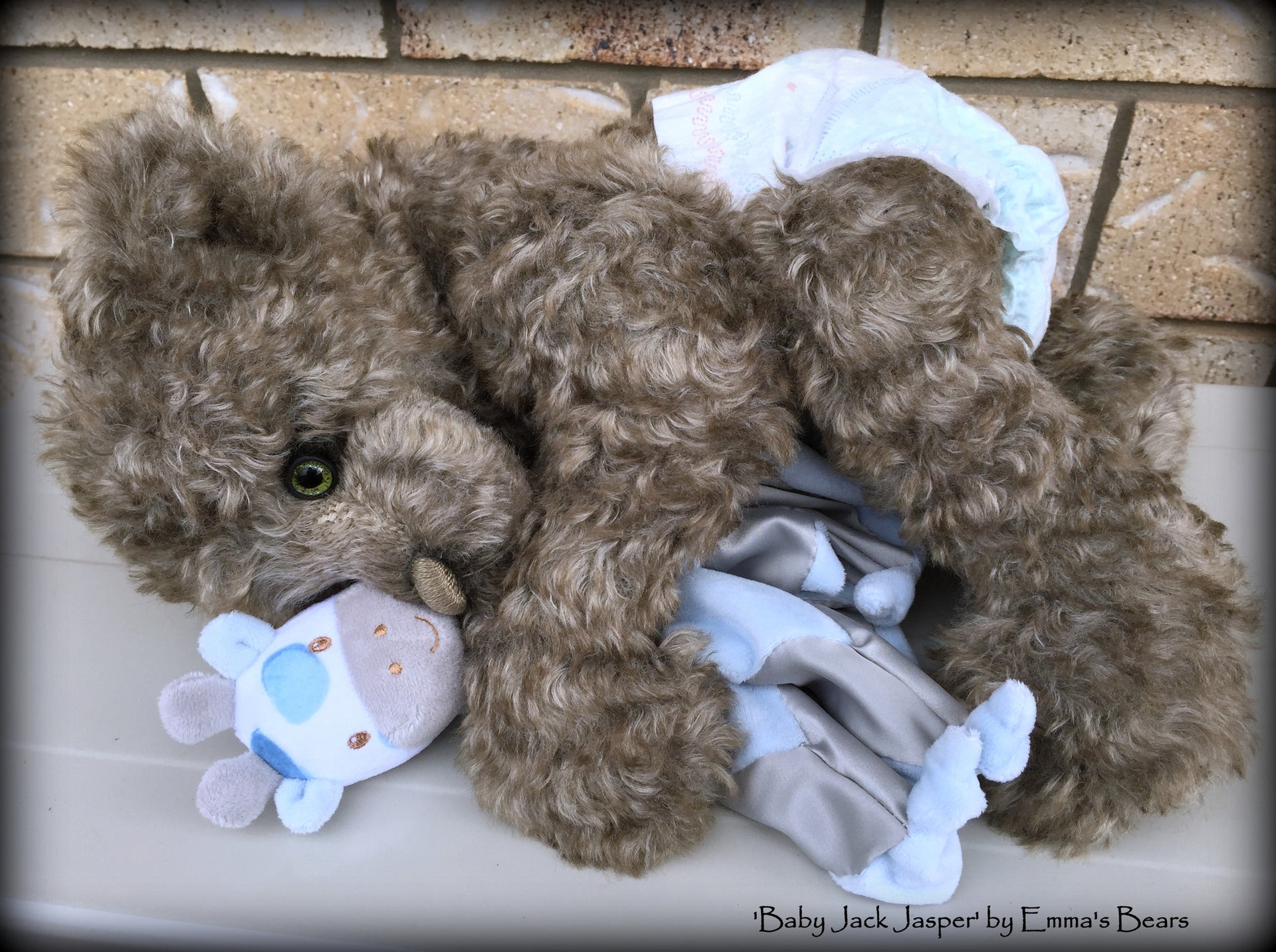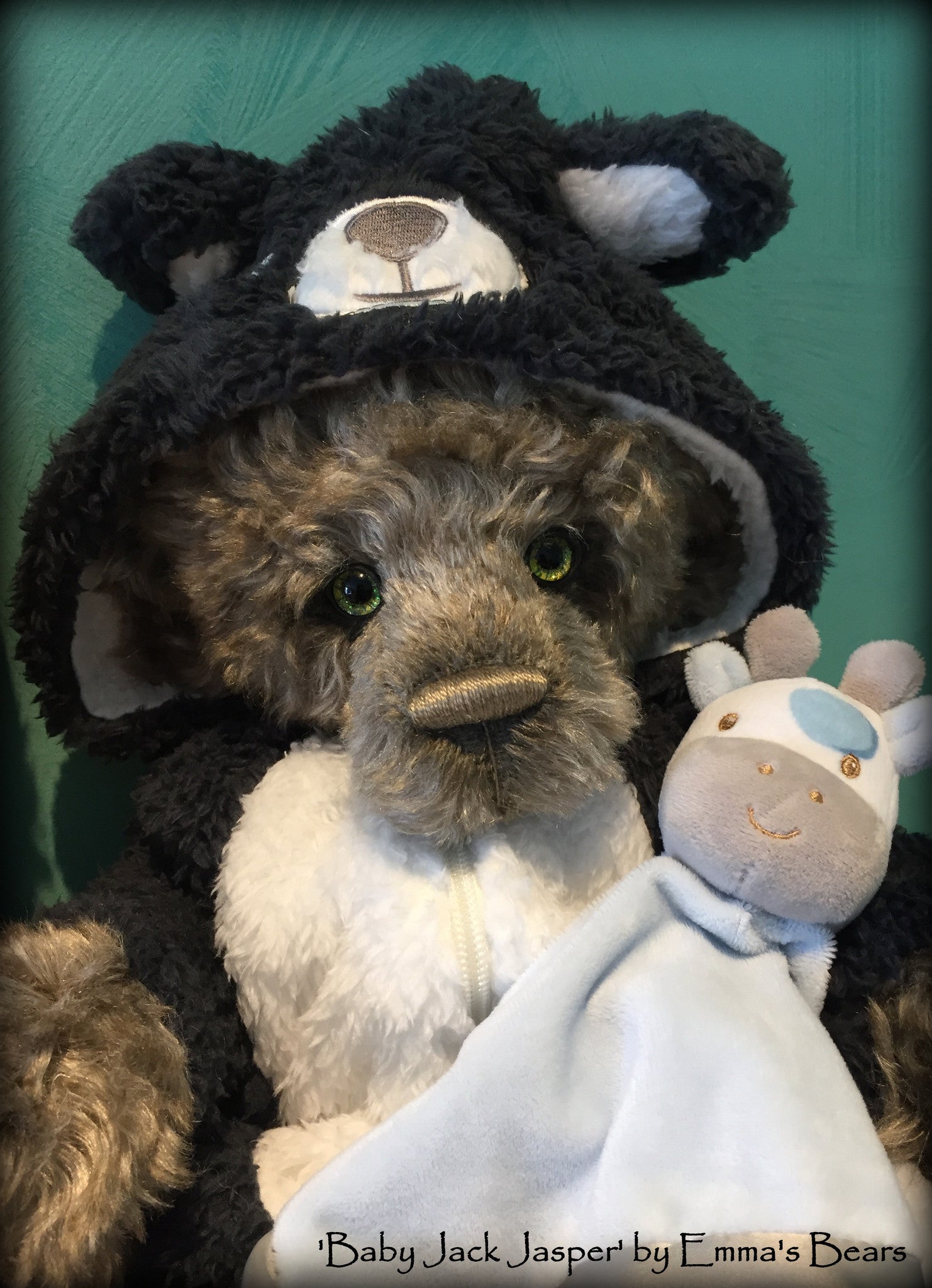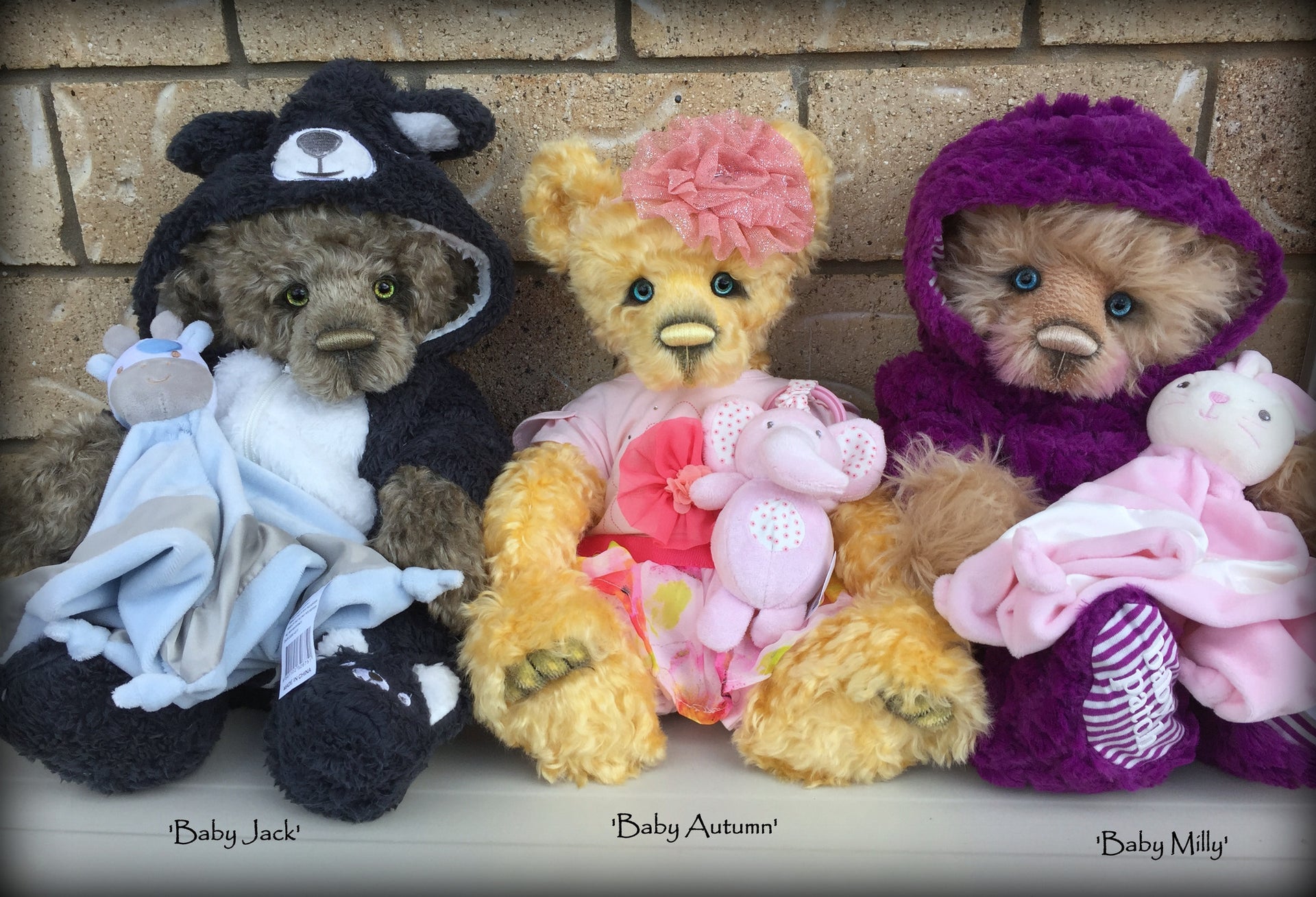 Baby Jack Jasper - 17in MOHAIR Artist Newborn baby Bear by Emmas Bears - OOAK
Baby Jack Jasper
By Emma and Mark Nicholson

17" (44cm)

Name: Jack Jasper
Born: 9/3/16
Time: 2:43pm
Weight: 4lb 2oz

This striking little guy has been inspired by those gorgeous 'reborn' realistic baby dolls. Jack is 'real newborn' size, measuring in at approx 44cm long and over 4lbs in weight. The weighting has been evenly distributed throughout his body with a mix of glass and steel shot in his head, tummy, arms and legs. He's fully jointed with a slightly wobbly neck joint. Combined with his heavy head, this gives Jack a very realistic feel when you pick him up. You won't need to support his head as much as some of our 'younger' baby bears though, and he is also able to sit upright - albeit a little slouched. 

Jack has been made from a stunning piece of ash grey German mohair blended with a touch of viscose to give him gorgeously dense and silky curls. He looks out through startling exotic hand-painted green glass eyes with hand sculpted lids - they are the first part of him to catch your attention. He has a hand embroidered cotton nose in a slightly lighter colouring then his fur. We've also needle sculpted his foot pads and shaded them with silk-dye to give him a stylized 3D toe effect while keeping the rest of his pad fully furred. (Please note that his hands are fully furred as per our traditional reborn-baby design). 

Baby Jack Jasper wears a brand new, fully removable, size 0000 'Baby Berry' brand fluffy onesie outfit with a hoodie, and a sweet little Winne the Pooh newborn sized disposable nappy. He also comes with his brand new blue and pale grey giraffe comforter blanket.  

Baby Jack Jasper is a very detailed cuddly and heavy one of a kind artist bear. He is only one of a handful of bears we have ever made using our hand painted eyes, so he is a bit of a rarity. 
~*~ Please Note that these bears are designed to be Adult Collectables and not intended for infants and young children due to small parts (eyes) and potential for damage (excessive limb twisting/ busted seams etc) – however child safe versions can be custom made and I would think that the bears would be fine with sensible, gentle children (yes – I am sure they exist!) Convo me if you have any concerns. ~*~
'Baby Jack' will be posted via express post international outside of Australia due to his weight - allow 3 - 6 working days for his arrival